Sidebar
The Best Day Beds for Your Child's Room or Guest Room
Make More Room In Your Home With A Day Bed
Maximizing space. We all aim to do it. No matter what size home you have, your space is one of the most valuable commodities in it. This is even more so in our children's rooms where toys, clothes, school-supplies and so much more can quickly eat up all the floor space there is. Day beds are stylish, practical, and are incredible space savers for any child's room and are also perfect for guest rooms.
Here are 4 of our newest day beds from Kids Furniture Warehouse: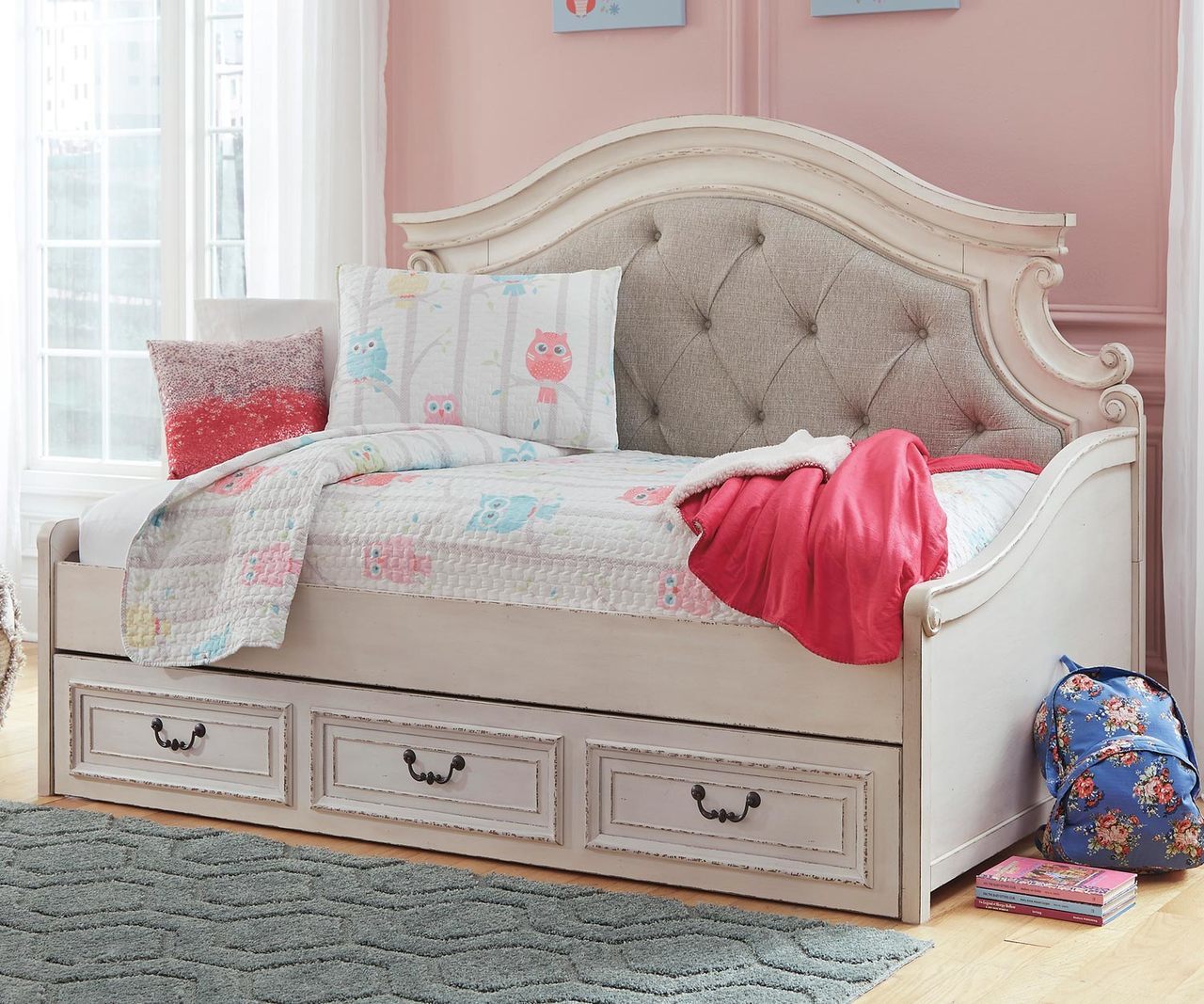 Elevating the art of traditional cottage styling, the Realyn Collection is her dream bedroom retreat realized. Antiqued two-tone aesthetic blends a chipped white with a distressed wood finished top for added charm. The ornately shaped headboard with inset upholstered cushion adds an eloquent touch. Includes large felt lined under bed storage drawer.
#2 Preston Full Size Bookcase Captain's Day Bed

The Preston Bookcase Captain's Day Bed features unique storage and sleep options that make this the perfect choice for a space saving bed. Choose from six built-in storage drawers or a 3-Drawer and Trundle combination! The built-in door on the end panels giving you access to the area underneath the bed providing the perfect storage solution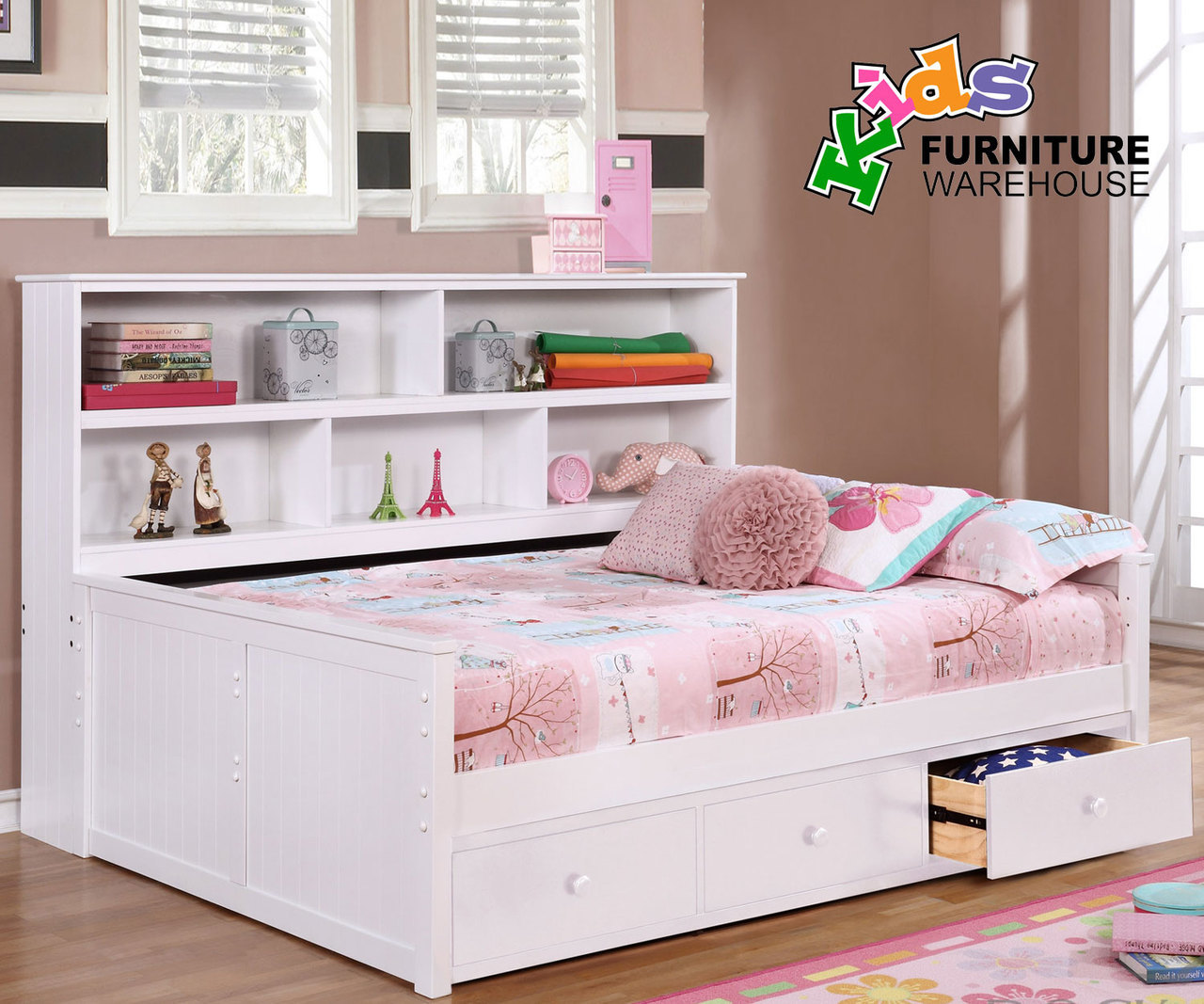 The versatility of sleep and storage in the Allen House Bookcase Captains Daybed allows it to adapt to just about any room setting no matter the size of the room or functionality needed. The bookcase headboard features integrated shelving providing plenty of storage and display space. For additional space-saving storage, the under-bed three drawer and six drawer storage units are available, or you can have it both ways with the versatile Trundle Storage Unit which accommodates a standard twin size mattress and includes removable dividers providing additional storage or sleep space when you need it.

The stylish Moderna daybed will make a wonderful addition to your children's bedroom. The twin size bed is multifunctional, offering a comfortable place to lounge and read, and a great sleeping spot by night. An included twin size trundle on casters will make it simple to accommodate overnight guests. Featuring beautiful leatherette upholstery and durable wood frame construction with a contemporary style, this versatile daybed will be a wonderful addition to your home. The Moderna Day Bed comes complete with bed ends, back panel, and trundle.
Shop our full collection of day beds here.
Kids Furniture Warehouse Orlando, Tampa, Sarasota & Miami
If you're looking for the best kids furniture store, shop Kids Furniture Warehouse in Orlando, Tampa, Sarasota & Miami. Our stores have the widest selection on a huge variety of kids beds, furniture and bedroom accessories. All of the furniture you'll find on our site is completely safe. At Kids Furniture Warehouse, we specialize in kids' furniture, so we know what you're looking for. We want to help you find furniture or beds that both you and your child will love. We have a wide range of space-saving fixtures and beds that can match any room. Come visit one of our stores conveniently located in Tampa, Miami and Orlando, Florida. If you don't reside in one of these cities, you can order online and we'll deliver straight to your house.
We have built a great reputation for ourselves in Florida and are happy to serve our customers across the state. We encourage you to come by and check out some of the great products we have to offer. Our stores always have great deals and you can speak with one of our Kids Furniture Warehouse representative