Sidebar
The Best Kids' Beds with Storage to Maximize Space
Have you forgotten what the floor of your child's bedroom looks like? Do you want to maximize the space in your kid's room?
Parents, how many times a week do you utter the phrase, "Pick up your room!"? Parents have asked (or shouted) this phrase in every language! Keeping your child's room uniformed and mess-free can be a challenge. To make this easier, we have kids' beds that improve the organization and aim to declutter kids' rooms. Storage beds for kids offer the very best solution, and at Kids Furniture Warehouse, we have an incredible selection for your family's home.
LOFT STYLE BUNK BEDS
Loft beds for kids offer ample storage and are a great way to save space in any child's room. They also bring a "treehouse" feel, which makes keeping a clean space more fun for your child. Loft beds allow you to maximize space in your kids' room or playroom. With built-in and add-on features, you can transform a loft bed into the only piece of children's furniture your need.
Loft beds utilize vertical space for storage or study areas. Loft bunk beds are also great for sleepovers and multi- child rooms.
Loft beds can accommodate either twin or full size mattresses, so whether you need a loft twin bed or full bed, you'll find it with us. Our collection of loft beds includes the latest designs that will appeal to most ages.
We have kids wooden loft beds, loft beds with desks, loft beds with stairs and more! Our loft beds are very popular and are the most viewed item at Kids Furniture Warehouse. Our loft beds are of the highest quality. At Kids Furniture Warehouse, we always put the safety of children first, which is why all of our loft beds come with stairs. If you are looking for a space-saving and practical solution for your home, apartment, or dorm room, Kids Furniture Warehouses' loft beds are the best choice!
Here are a few of our best loft beds for kids that offer full support and grow with your child as they do:
The Espresso Twin over Full Loft Bed is the ultimate All-in-One Bed featuring a bunk bed with a ladder, a built in dresser, and built in storage. The new Espresso collection features a simple design with a modern, sophisticated feel. Satin-metal finish knobs offer the perfect contrast to the rich espresso finish.
Check out one of our favorites, The Lake House Loft. This kids loft bed is beautifully crafted of solid hardwood with steel hardware connections, designed for durability and styled with great looks.
CAPTAINS BEDS
Captains beds are great for storing kid's clothes, toys, books, movies, games, and more in your captain's bed. Ideal for shared bedrooms, homes with limited space, or extra desired organizational storage space, captain's beds can be integrated into any interior design scheme or room.
At Kids Furniture Warehouse, we offer both full captain's beds and twin captain's beds that you and your child will love. Having a kid's bed with drawers can be a true blessing for parents everywhere!
Check out some of these space-saving beds:
Preston Twin Size Bookcase Captain's Day Bed
TRUNDLE BEDS
Trundle beds are ideal for saving space and are perfectly suited for multi-child rooms. Featuring a wide pull out drawer with a mattress, trundle beds promote efficient use of space and are perfect for a child's slumber party! You can pull out the trundle bed when needed for other children or guests, and you can neatly tuck it away after use.
Looking for a kid's bed that is perfect for sharing rooms, maximizing space, or hosting overnight slumber parties? Trundle beds are the ideal option.
Trundle beds are a great way to add a bed to a bedroom with limited space. At Kids Furniture Warehouse, we have a wide collection of trundle beds for kids and other children's bed furniture for sale.
What are trundle beds?
In short, trundle beds are a two-in-one bed. This means they provide space for two but occupy the space of one! Trundle beds are ideal for saving space in kids rooms and are a great bedding option for multi-child rooms. Many families find that trundle beds are the way to go if your children share a room of if you have a guest room. Trundle beds can be pulled out when they are needed, and neatly tucked away after use. Great for any décor, trundle beds can be added under bunk beds, daybeds, and captain's beds. These beds are functional and come in a variety of styles to complement the child's bed and other bedroom sets.The trundle bed is one of the most popular beds for smaller rooms, including children's rooms and those occupied by adults. The trundle bed features a wide pullout drawer that with a mattress for guests. Because of its ability to promote efficient use of space and high levels of cleanliness, the trundle bed should be a no-brainer for many families that are low on space.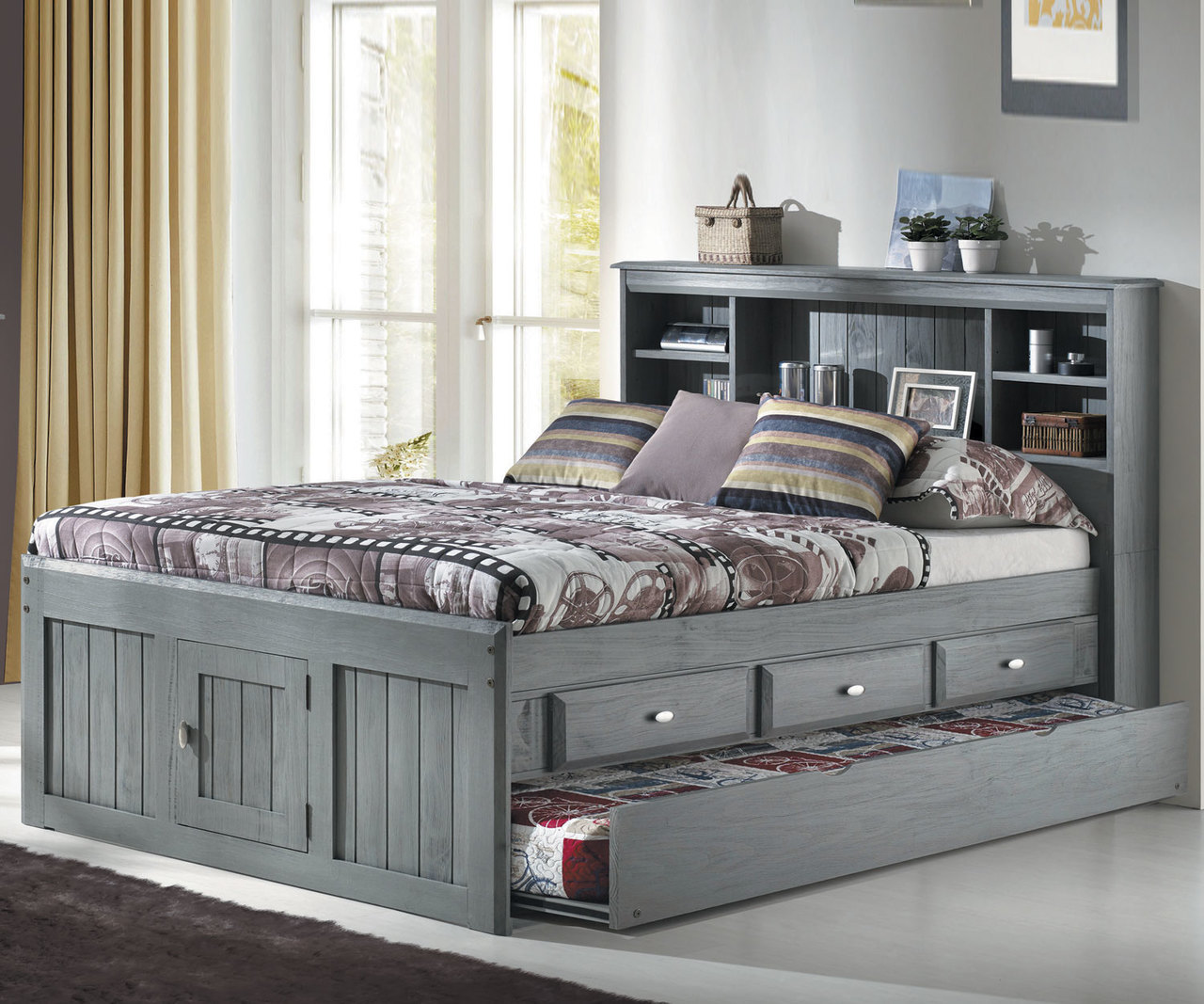 This kids storage bed from our Westport Gray Collection will bring a modern, updated look to your child's room. Featuring a cool Charcoal Gray finish with solid wood construction throughout providing lasting great looks and durability for many years to come. Satin-metal finish knobs complete the beautiful modern look.
https://www.kidsfurniturewarehouse.com/westport-gr...
BUNK BEDS
Bunk beds are great for sleepovers, multi-child rooms, or dorm rooms. Bunk beds are great for utilizing the vertical space in any bedroom. Bunk beds come in different sizes including twin over twin, twin over full, full over full, and futon style bunk beds.
DAYBEDS
Daybeds can be placed against walls to lend space to the floor, which creates more room for activities for your little ones. When you're not sleeping, your day bed can provide a wide space for sitting and relaxing.
Daybeds are multi-functional beds; they serve as a sofa or guest bed. When your children aren't sleeping, their daybed can serve as a place to read, watch movies, or play activities. These comfortable kid's beds can be positioned against the wall to lend floor space and create more room. Additionally, when you're not sleeping, your kid's daybed provides a sofa-style, lounging place for sitting and relaxing. Add extra support with layers of comfy pillows along the backboard to transform your daybed to a day-time couch!