Sidebar
Save Space And Money With A Full Over Full Bunk Bed
As your family grows, so does the cost of living and providing for your loved ones and kids. Furniture, clothes. schooling, and food all add to higher monthly expenses. Space in your home begins to be limited as well. Kids Furniture Warehouse is here to help. We offer an amazing selection of full over full bunk beds to suit any bedroom style or size. Bunk beds provide a wonderful way for your kids to have adequate sleep and still have room to play, study and let their imaginations run wild.
Shop these full over full bunk beds today!
The Carolina collection offers 100% solid, sturdy wood construction with a timeless Mission styling your kids can grow with. A pure white finish on solid wood throughout will provide lasting great looks and durability for many years to come. The Carolina Full over Full bunk bed also features steel hardware connections for unsurpassed strength and stability. The Carolina Full over Full bunk bed can also be separated into two separate full beds. The under-bed area can be used to accommodate a optional Storage Drawers (pair) or a standard twin size Trundle Unit for extra sleep space! The Carolina bunk bed comes complete with upper and lower beds, guardrails, slat mattress supports and ladder.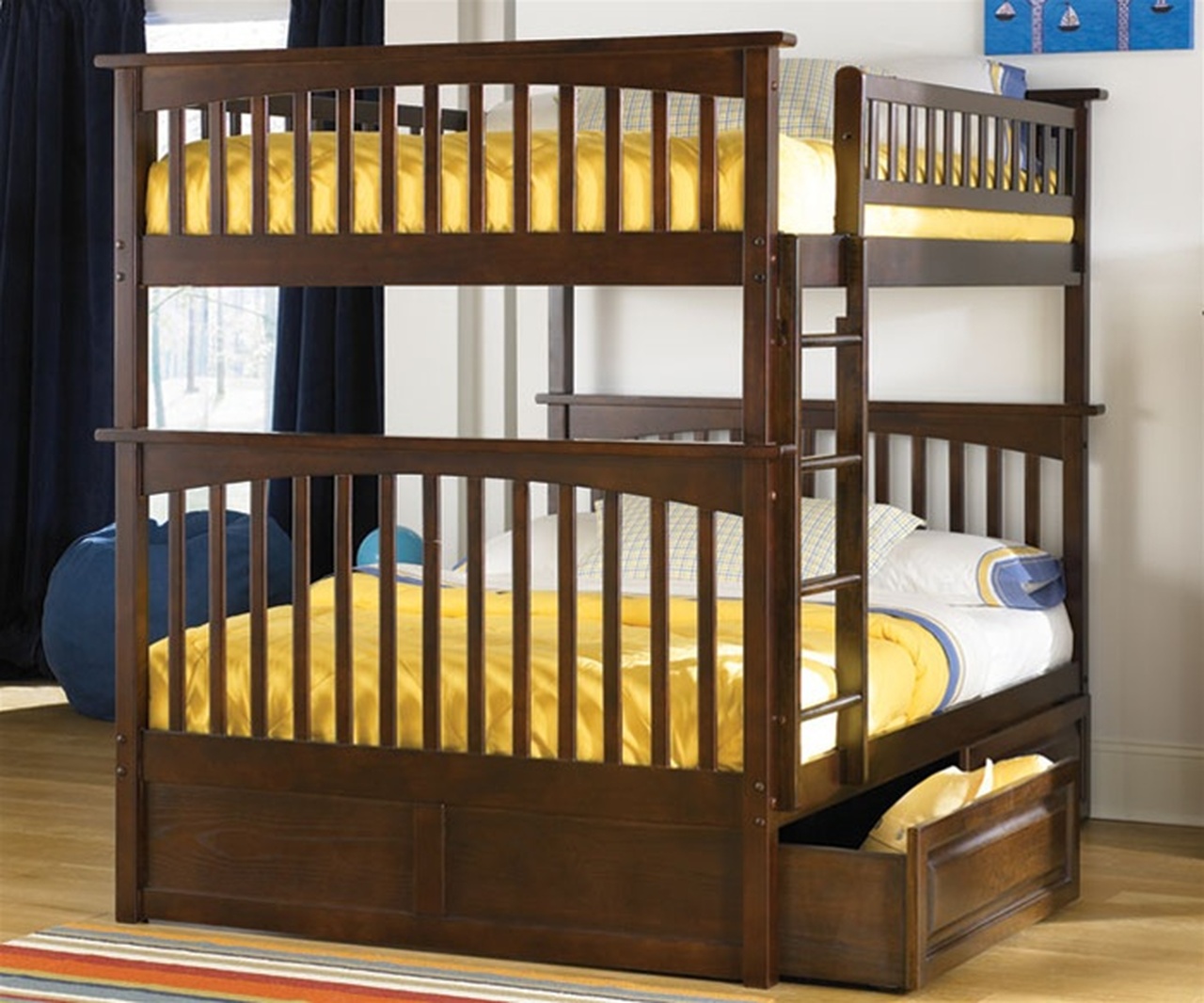 The Columbia Full over Full Bunk Bed is a great choice for those that are looking for premium quality at an affordable price. The Columbia Full over Full Bunk Bed is constructed of solid Eco-friendly Hardwood and is available in four high build durable finishes. The Columbia Full over Full Bunk Bed has a built-in modesty panel and can accommodate under bed storage drawers or a trundle. With its 26 steel reinforcement points and two 14 piece slat kits, this bed is as sturdy as they come. This bunk bed can also be separated into 2 identical full size beds. So many sleep options, and it creates convenient space in your child's room. This bed will surely become their favorite sleepy time fort and you can feel good about the quality and value.
CAMAFLEXI is a bedding system uniquely designed to adapt and change to the growing needs of children. The transitional possibilities are virtually endless! At any stage, whatever your child's current bedding needs are, CAMAFLEXI offers one of the most complete and highest quality youth bedding lines around. Beyond offering the best in flexibility, safety, durability, and healthy living elements in our CAMAFLEXI furniture, we offer designs that you and your children will fall in love with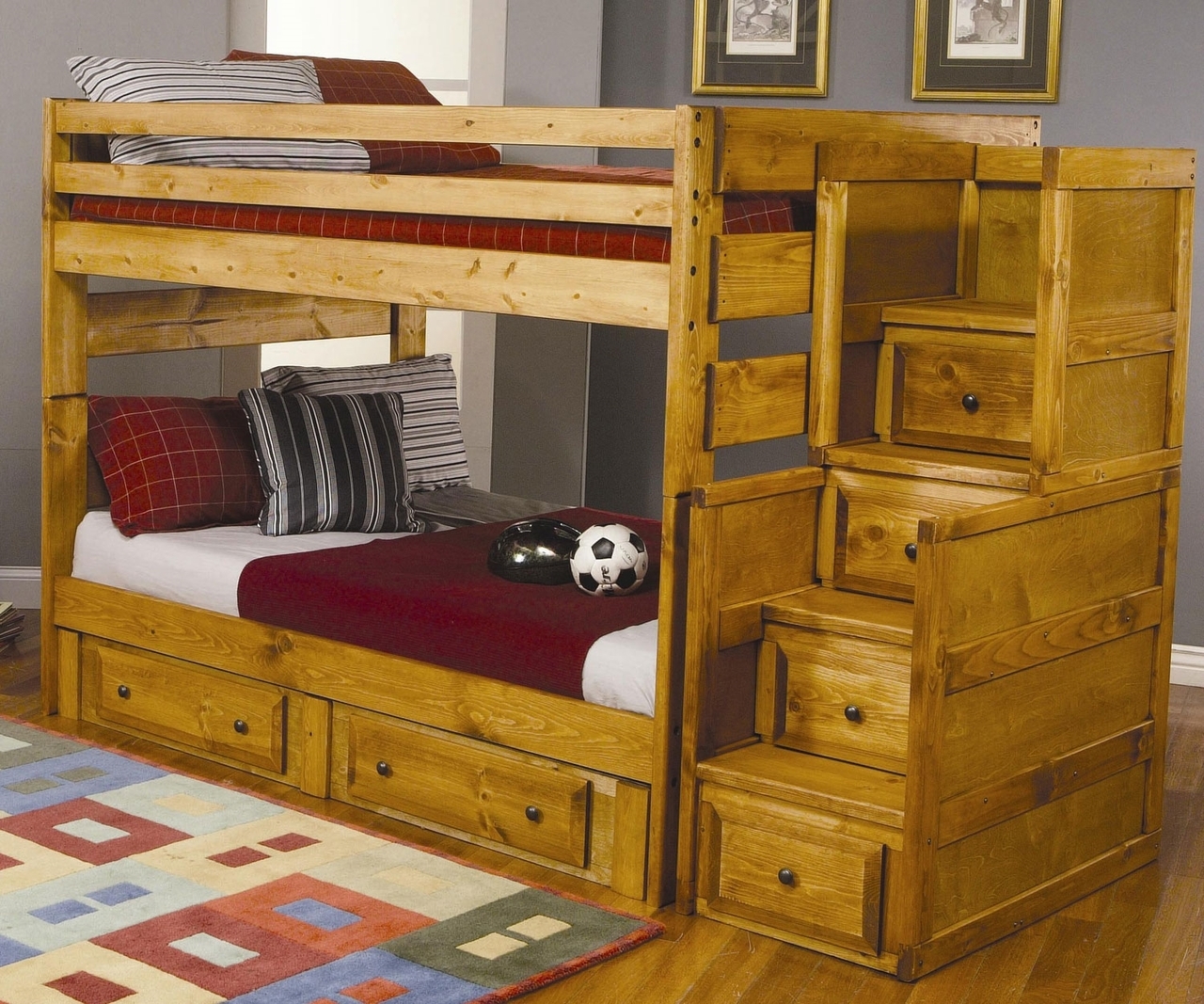 Whether your children share a bedroom or you are looking for a fun, youthful style, the Wrangle Hill Bunk Bed will meet your needs! Featuring a convenient space saving design with a super safe stairway entry that makes it easy for your little ones to get in and out of bed and features spacious built-in drawers in each step adding functionality to your child's room. Solid pine construction and a warm Amber Wash finish offers a relaxed and comfortable style that will blend easily with casual decor. A full size bed on top and a full size bed below provide plenty of extra sleep space for growing children. You also have the option of making great use of the space below the lower bed by adding a Storage Drawer Unit for extra storage space. Welcome the Wrangle Hill Full over Full Bunk Bed with Stairs into your home and create the perfect look for your child! Includes two full size bunkie boards.
No matter what type of bunk bed you are in search of, Kids Furniture Warehouse has what you need. From full over full bunk beds with stairs, drawers, and trundle beds, you will find the perfect choice for your child. Shop our online store today or come see us in our Florida showroom.