Sidebar
The Best In Kids Lofts Beds
Loft beds are one of the most versatile pieces of furniture you can have in your child's room. They provide incredible space saving, promote organization and stimulate imagination. Loft beds are perfect for tight fitting rooms with small or limited layouts and will allow for convincing your child's furniture into a more manageable and uniform way. Kids Furniture Warehouse has the best selection of loft beds for kids that will suit any style or design wish.
Shop These Best Selling Kids Loft Beds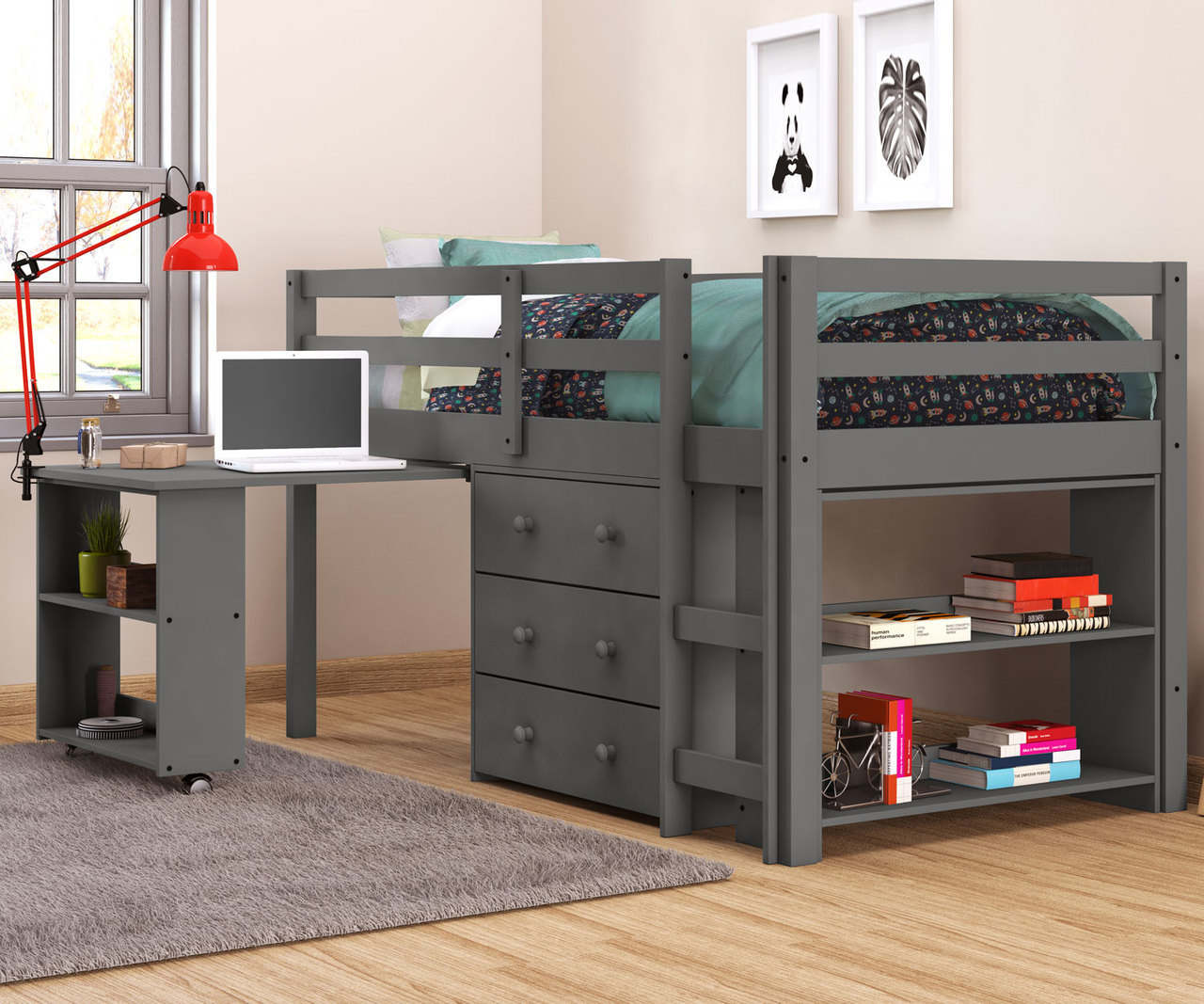 This space-saving Low Loft Bed with Desk and Storage brings lots of imaginative play and fun to your child's room and features 100% solid wood construction along with steel hardware connections for excellent strength, stability and durability. The beautiful Grey finish makes for an easy transition into any decor. The underbed area is loaded with storage featuring a three drawers chest, pull-out desk with shelves, and a bookcase. See below for more item features.
With its craftsmen styling and substantial design elements, the Everglades Loft offers an impressive blend of function, style and versatility. Beautifully crafted of solid Pine with steel hardware connections throughout, the Everglades Loft Bed is designed for durability and styled with great looks. The full size upper bed is spacious and comfortable while the underbed area features a modular dresser/chest end with integrated shelving and a full length desk to create a grand workstation. See below for more Everglades Loft Bed features.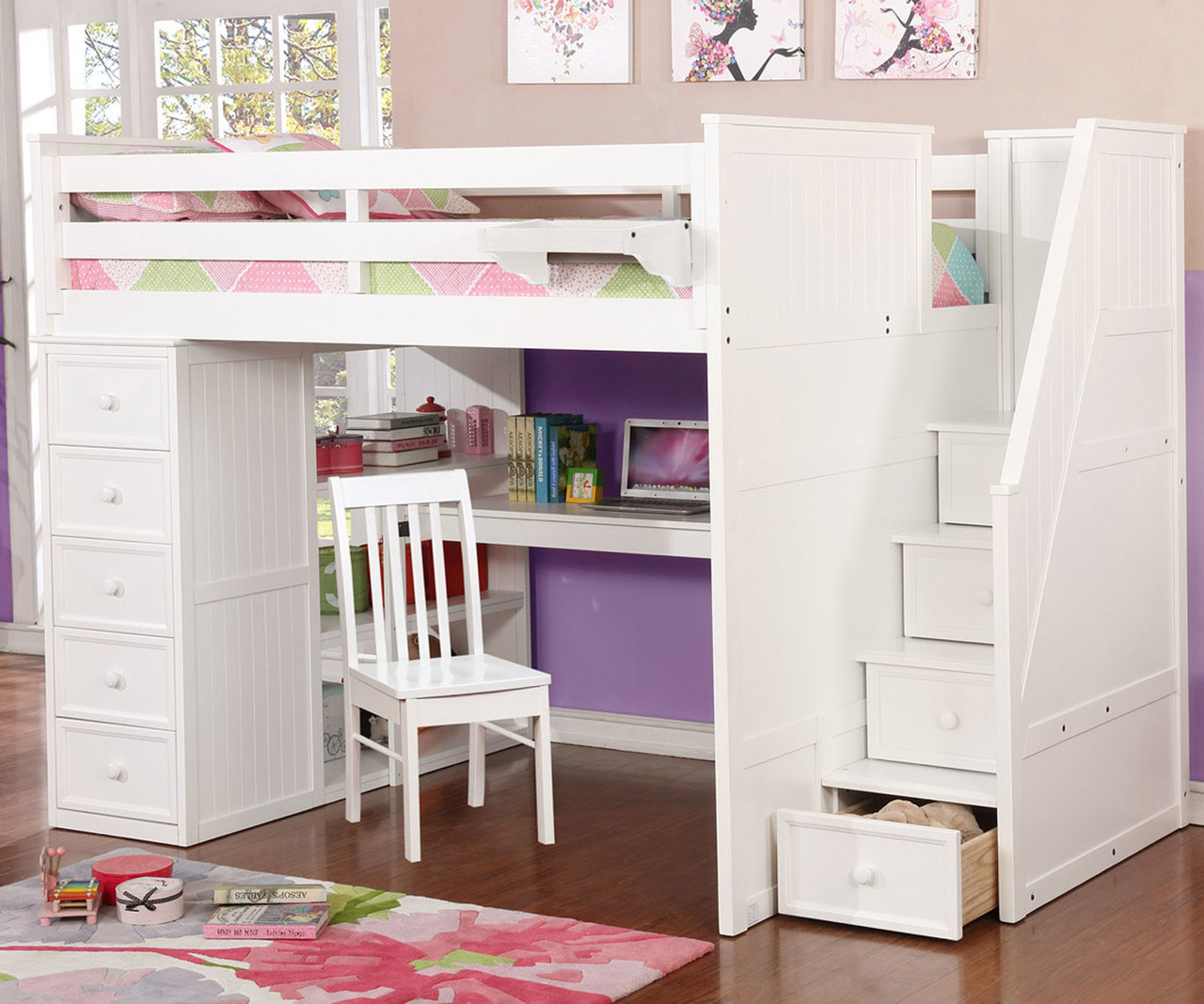 This Allen House multi-function Staircase Loft Bed is the perfect configuration for siblings and sleepovers. The space-saving full size loft bed incorporates a student desk and five-drawer chest with built-in shelving as well as a sturdy staircase with four large drawers. The staircase features an extra-deep rolling toy box drawer on the bottom which is perfect for your child's favorite things. The Unrivaled functionality, safety-focused design as well as rock-solid sturdiness makes this loft bed a hands-down favorite. See below for more features and coordinating items.
The School House Low Loft Bed with Stairs is a great choice for a great quality, space-saving bed for your growing child. The School House Low Loft Bed is available in twin size only. The School House Low Loft Bed features a super-safe staircase with functional drawers and 100% solid wood construction along with steel hardware connections for excellent strength, stability and durability. Four beautiful finishes are available making it an easy fit for any decor. Choose from a pristine White painted finish, Cherry finish, Pecan finish or a deep Chocolate finish. You can add a fun slide to make getting out of bed a blast! Or optional matching bookcases and dressers can be added and neatly tucked underneath the bed to save valuable space in your child's room. The School House Low Loft Bed comes as shown and includes complete mattress slat supports. Mattress sold separately.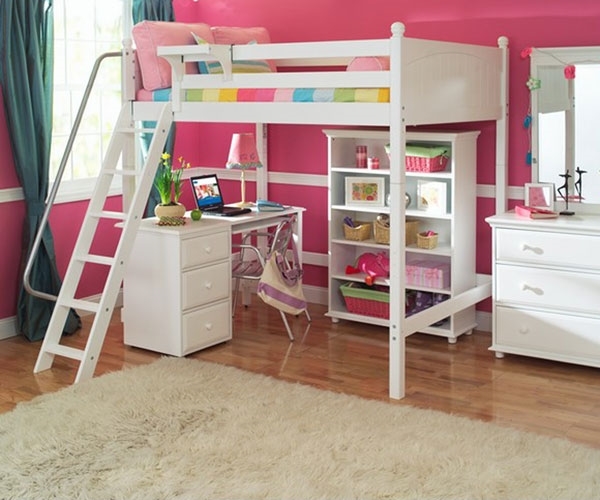 Maxtrix...Fun, stylish premium quality furniture made to last for many years. Start with this bed and from here, you can add from our wide selection of ladder and leg extensions, storage units and accessories to create and continuously re-invent the room of your child's dreams. As your child grows, and needs change, the Maxtrix® system is easily adjusted to cater to super safe sleeping, playtime, schooltime, sleepovers, even teen rooms. We believe you should only have to buy kids furniture once - so the Maxtrix system is flexible and solid enough to last well into the teenage years.Our Maxtrix High Loft Bed is available in twin or full sizes with an Angled Ladder with Handrail for extra peace of mind.
No matter what type of kids loft bed you are looking for, Kids Furniture Warehouse has you covered. Shop our entire collection online today or come visit us in one of our Florida showrooms. Kids Furniture Warehouse is your home for kids furniture, kids beds, and kids home accessories.