Sidebar
Twin Size Trundle Beds For Your Child's Room
Trundle beds are a perfect sleeping solution for your child's bedroom. Containing a hidden bed that pulls out, you can minimize space, help with organization, and teach valuable lessons around tidiness and order for your developing little one. Trundle beds are perfect for sleep overs, sibling's beds, and playtime. Kids Furniture Warehouse has an incredible collection of kids trundle beds to suit any need.
Shop these kids trundle beds today and save!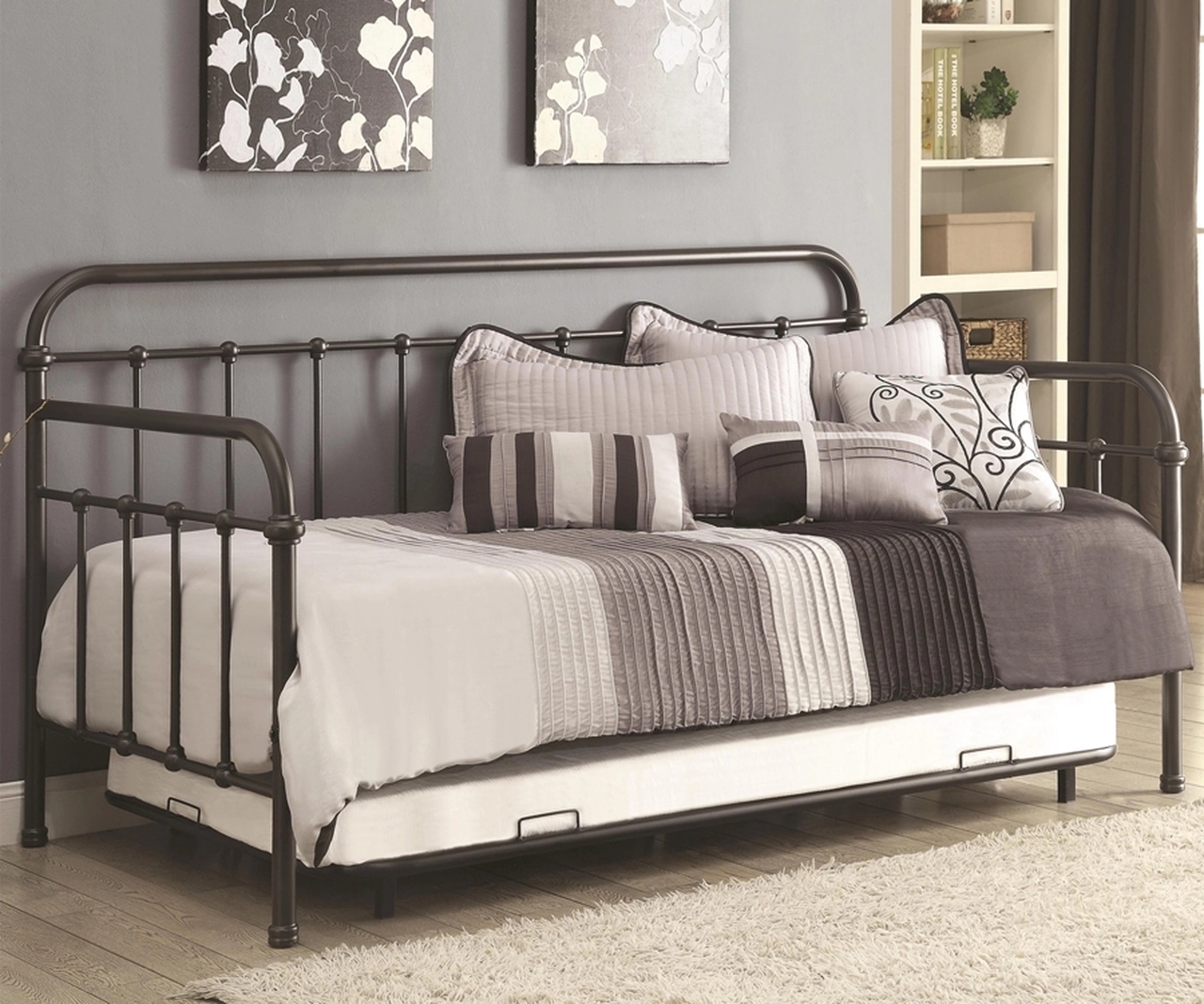 This charming Dark Bronze daybed will make a wonderful addition to your children's bedroom. The twin size bed is multifunctional, offering a comfortable place to lounge and read, and a great sleeping spot by night. A convenient twin size trundle below makes it simple to accommodate overnight guests. Featuring durable metal construction and a transitional design, this versatile daybed will be a wonderful addition to your home. The Day Bed comes complete with bed ends, back panel and trundle. Mattress supports included.
The strong, sturdy and handsome Ridgeline collection brings a new dimension to solid wood bedroom furniture for your kids and teens!. A warm Honey lacquered finish on solid wood throughout will provide lasting great look and durability for many years to come. The Ridgeline Captain's Trundle Bed features timeless Mission styling and solid pine construction with steel hardware connections for unsurpassed strength and stability. Built-in drawers provide the perfect storage solution and a twin size pull-out trundle bed below offers up that extra sleep space when you need it! You also have the option of adding an additional 3-Drawer Unit on the opposite side if more storage is needed.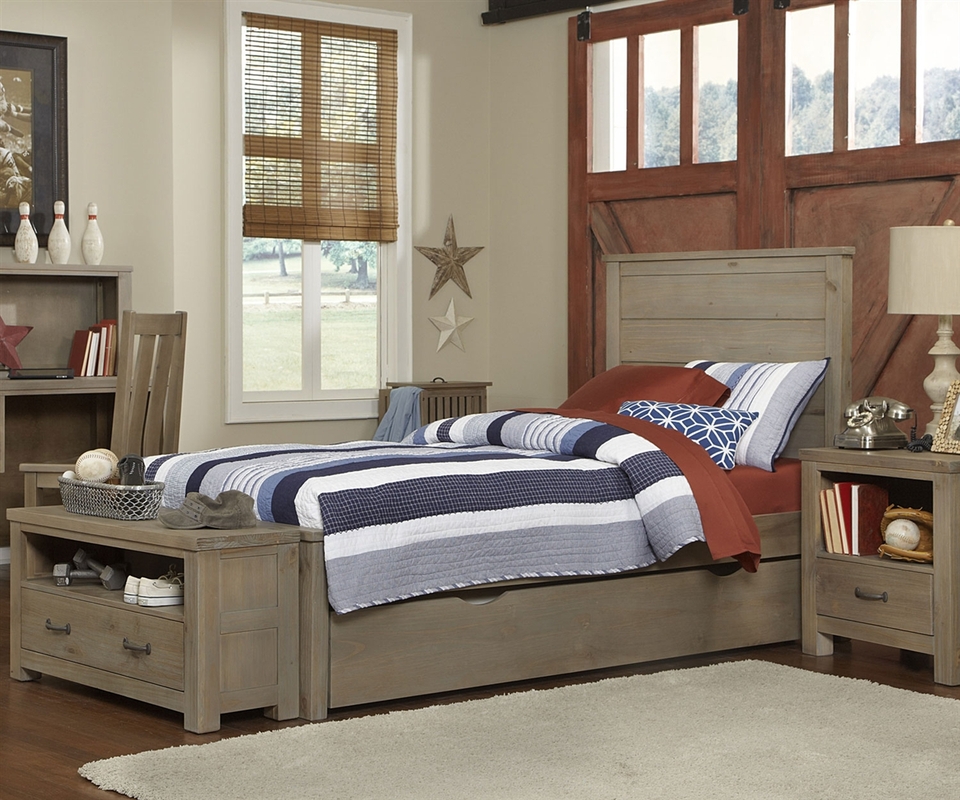 Inspired by American industrialization, a time when things were built with great care and intended to last for generations, the Everglades Collection items feature clean lines, substantial posts, extra deep drawers and a beautiful Driftwood finish enhanced by the DURA-Brush finishing process. Bench built with excellent quality craftsmanship and from 100% solid pine, the Everglades Collection items transition easily into any décor, able to take on a feature roll or act as the perfect backdrop.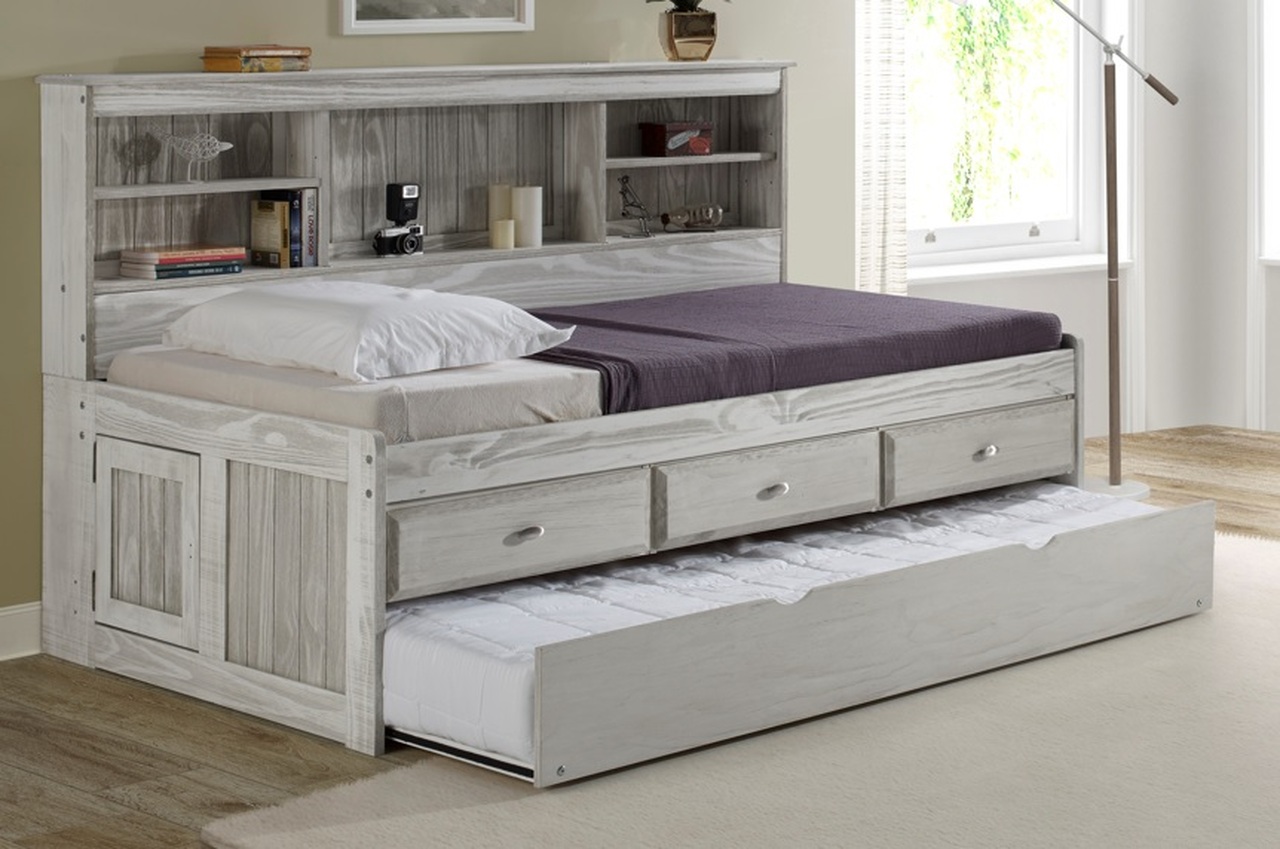 The new Whitewood Ash collection features a simple design with a modern, sophisticated feel. Satin-metal finish knobs offer the perfect contrast to the rich finish. The Whitewood Ash Bookcase Captain's Day Bed features unique storage and sleep options that make this the perfect choice for a space saving bed. Choose from six built-in storage drawers or a 3-Drawer and Trundle combination! The built-in door on the end panels giving you access to the area underneath the bed providing the perfect storage solution. Solid wood construction with steel hardware connections will provide lasting durability and a bed your kids can grow with.
No matter which type or style trundle bed you are in the market for, Kids Furniture Warehouse has you covered. With a convenient online store that ships directly to you, our kids trundle beds are the perfect addition to any child's room. Shop the entire collection today or come visit us in our Orlando showroom!